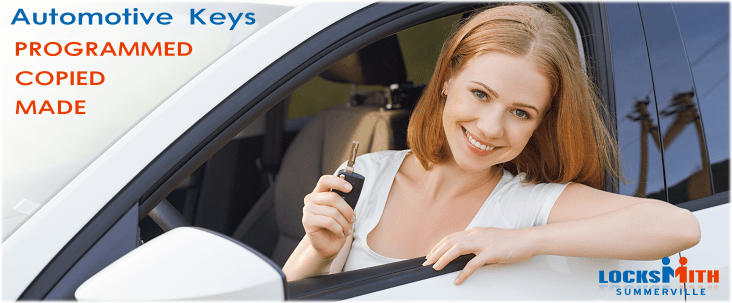 Lost your transponder keys? Looking for a mobile car key locksmith who can save the day? You're in the right place! We offer the residents of Summerville, SC the chance to enjoy low-cost prices on car key replacement services without leaving their own house.. The best part about our service is that we come to your location. You no longer have to drive all the way to the dealer and pay $300 for a simple car key copy task. We can get your new car keys made, replaced or programmed anywhere in the Summerville area at a great price that fits any pocket.
Car Key Copy Service
Whether you need to replace keys for your 2008 Ford Focus or a new car key copy for your 2012 Honda Accord, we are here for you! Car key dupliaction is the safest way to make sure you have a backup plan to the lost of your spare set of keys. As Summerville, South Carolina's leading car key replacement business, we urge you to keep this option in mind by calling (843) 466-5032 for an estimate today.
Automotive Keys Made and Remotes
As a big part of our car key service, we can provide our clients with auto remotes and program it to fit your vehicle locking system. It's kind of nice to know there's a business who can deliver a fine product at a fair price. Each and every one of our employees in Summerville, SC is fully equipped to produce new car key replacement solutions, from having a new one made, to programming keys of various kinds.
Go With a Known Car Key Replacement Service
You want to know for a fact that the locksmith who delivers your car keys made is comes from a well-known company, just in case something goes wrong. With us as your mobile key service of choice, you'll never have to worry about a broken car key repair or loosing it at your friend's house. So the next time you're in distress, don't hesitate. Give our guys a ring and get access to the best car key replacement service Summerville, SC has to offer her tenants!